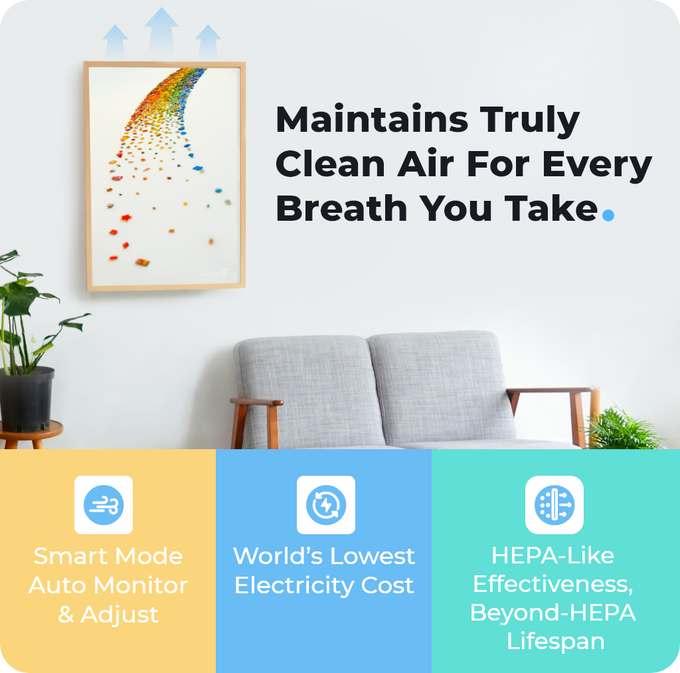 It is time to breathe the cleanest and safest air for the sake of your health, especially during the globally raging disease and regional wildfire. It has been reported in recently-published research that effective ventilation, possibly with air filtration can suppress the indoor spread of COVID-19.
In the guise of a wall art piece, Sauberair FLAT brings you a noticeable difference in the air you breathe while remaining unnoticed. It eliminates a wide range of pollutants with the minimum power consumption and extended filter lifespan compared to conventional purifiers.
It has built-in smart sensors to detect, monitor the indoor air quality like PM1, PM2.5, VOCs, CO2 and humidity, temperature, and you can check them and modify the filtering mode on the app anytime, anywhere.
It is also the world's first purifier that is scalable, meaning that you can connect two together and have both of them worked, controlled or even played music as Bluetooth speakers simultaneously.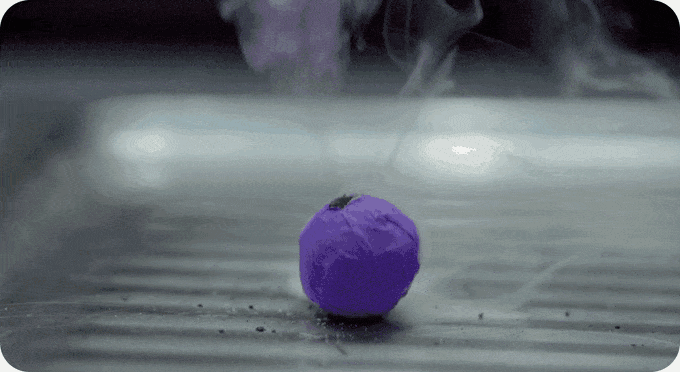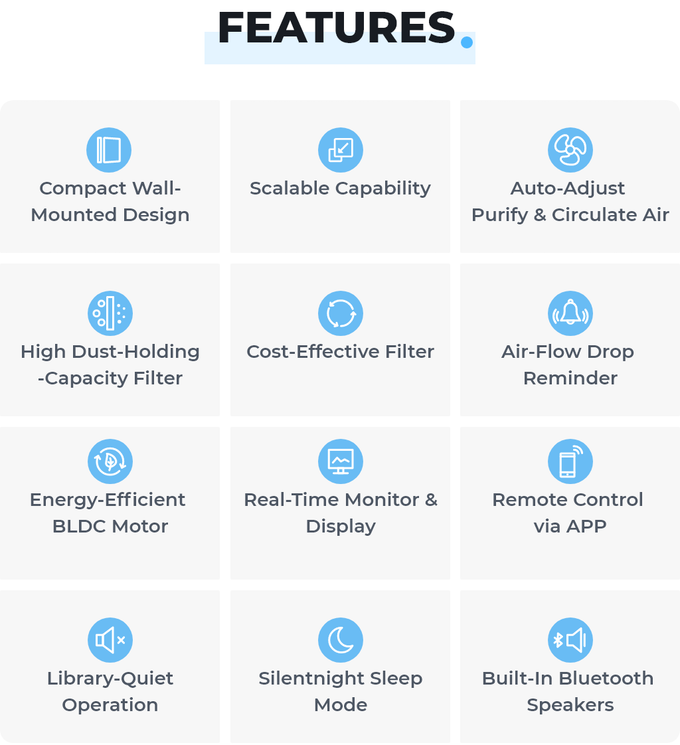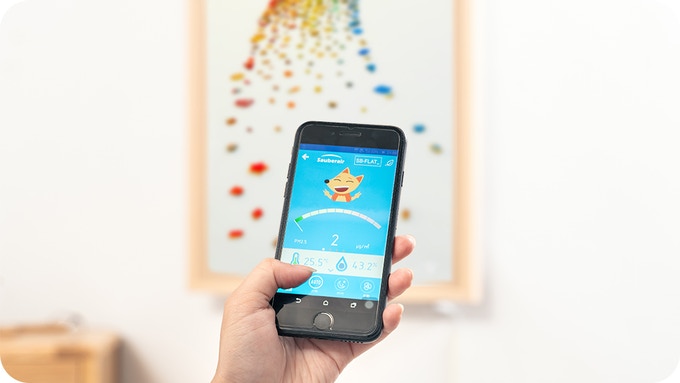 Sauberair FLAT can be easily controlled remotely via a user-friendly app and entirely hidden behind a painting, poster, photo to perfectly match your home's interior. It is your ever-faithful companion to enhance your indoor air quality and lifestyle in an imperceptible way.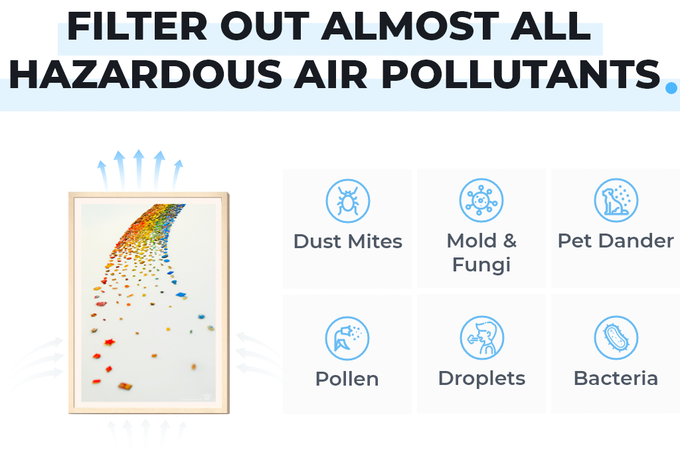 Running an air purifier at home can be a good idea anytime. It helps accelerate air circulation and filter out indoor pollutants and allergens like kitchen exhaust, cigarette smoke, dust, pet dander, mold spores, plant pollens, droplets, aerosols, etc. And it's especially true now in the acute coronavirus pandemic.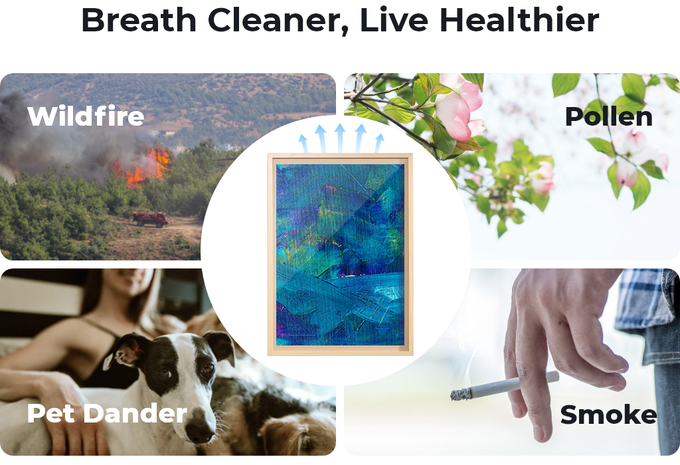 Sauberair FLAT works similarly to the hospital filtration system to protect you and your family from exposure to the allergen, aerosol, droplet, bacteria, germs, virus, etc. It creates a cleaner and healthier working and living condition for all. Especially for kids and elderly who are more susceptible to diseases, people with pets, asthma, rhinitis or habits of smoking, residents living in severely polluted places, or those who simply need clean air.

Superior to other air purifiers which are bulky and heavy, Sauberair FLAT is such a space saver that can be mounted on the wall and disguised as a customizable art piece. The simple, stylish design looks great in any home environment.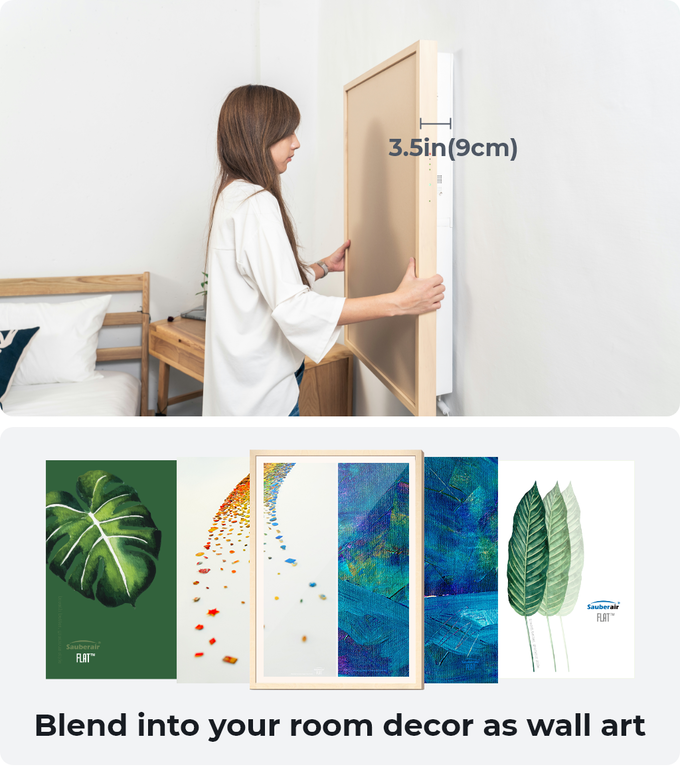 It is compact, aesthetic, and powerful. With a thickness of only 3.5in (9cm), Sauberair FLAT still reaches a high clean air delivery rate (CADR) suitable for most room sizes, capable of cleaning a 207ft² (19m²) space within 12 minutes or a 345ft² (32m²) room in 20 minutes.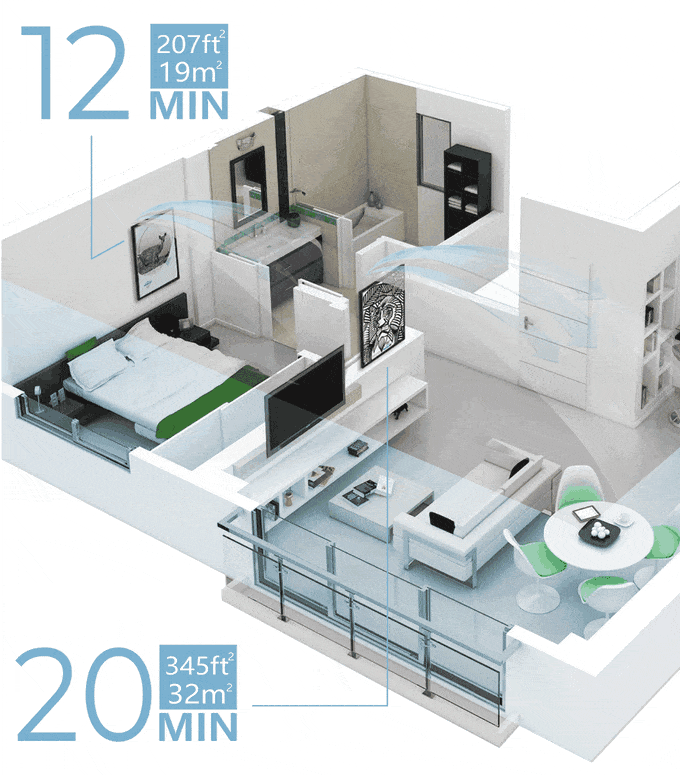 CADR is a must-have indicated value for an air purifier. However, it is not scientific nor economic to pursue the largest CADR value without referring to the area of your room.

It is normally the case for other air purifiers to have an annual filter replacement fee higher than or even double or triple the price of the machine itself. People would just stop using the air purifier all at once to save money. What shines the most on Sauberair FLAT is its ultimately low maintenance fee which is equivalent to only 1/7 or 1/8 of others, so it is definitely a keeper in your house. Thanks to its patented technologies in the design of the one-of-a-kind filter-aerodynamic system, it fulfills its duty to keep your breathing air clean and cheap.
Sauberair FLAT features a two-stage filtration for an all-round purification: an activated carbon pre-filter that eliminates odors, pet hair and other large particles, and a fine, pleated filter that traps harmful smoke, airborne pollutants and aerosol.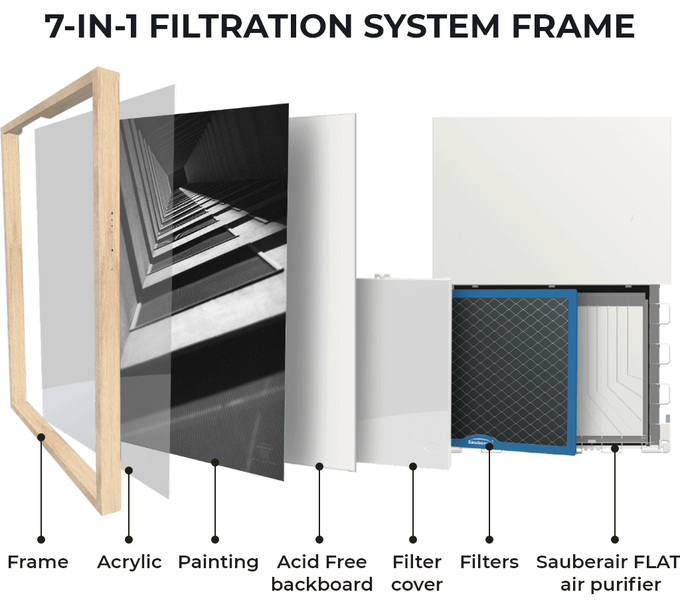 Superior to some competitors who flaunt using true-HEPA filters (with MERV values of 17) which are prohibitively expensive to replace, and what's worse, can slash the filtration effectiveness as a result of the reduced airflow from the overly-dense filter fibers, Sauberair FLAT uses a self-developed and accredited filter with significantly lower cost and equivalent filtration effectiveness.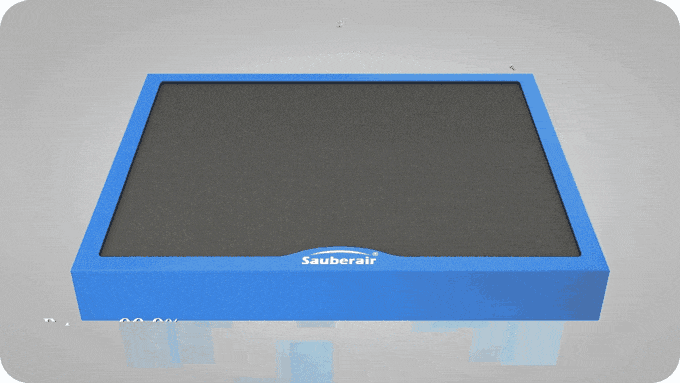 Our repeated experiments and tests have replicated the results shown in the research papers and corroborated the science behind FLAT: Increasing airflow exchange rates acts as a factor even more crucial to improve filter efficiency than the deployment of HEPA filters. Using a better sub-HEPA filter, which is as effective but more affordable, FLAT goes to great lengths to achieve an air circulation volume so high that it compensates the vertex of the efficiency curve at 0.3 microns (MPPS) therefore boosts the overall filtration effectiveness.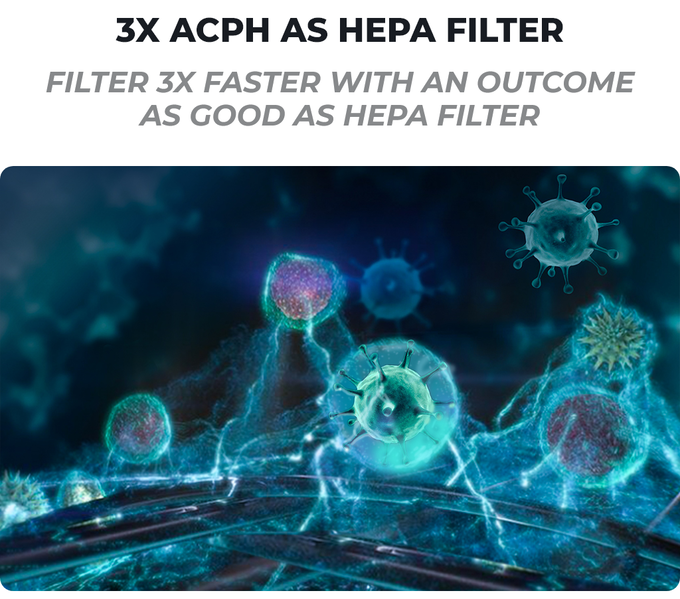 FLAT uses the most reliable non-woven fiber material filter, thick and heavy. It guarantees high dust-holding-capacity. In other words, it has a longer lifespan, and the airflow will not reduce rapidly (still keeping high filtration effectiveness) when accumulating mass dust.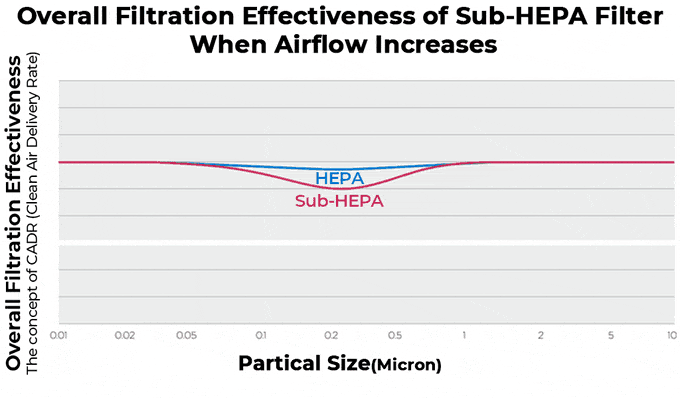 The long-term cost for replacing filters can be significantly cut down, for this will dramatically extend your filter replacement schedule for up to three years.Changing the filter is easy too, which takes less than one minute.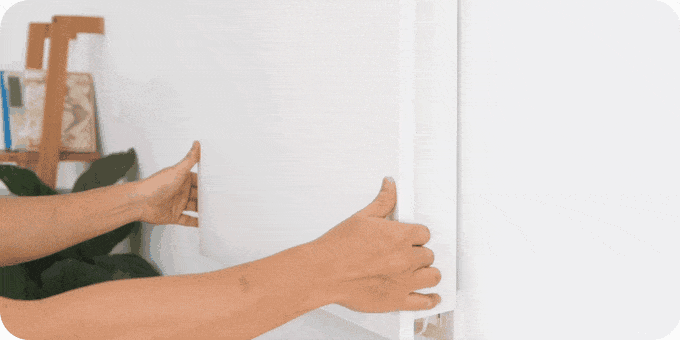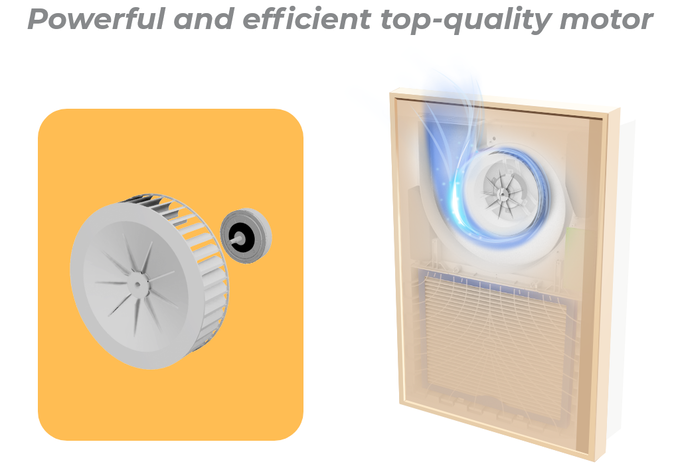 Thanks to its cutting-edge aerodynamic circulation system and energy-saving approach, Sauberair FLAT's custom made BLDC motor, which is thin yet forceful, consumes fewer energy and generates less noise.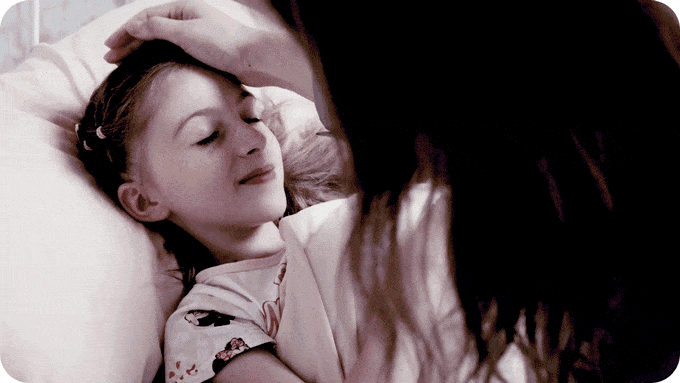 FLAT runs automatically at 1-2 wind speed in most cases, which is extremely power saving. The power consumption is only 1.7W at the lowest speed, and the minimum operating speed can be as low as 1.1W in sleep mode. Even with Wi-Fi and Bluetooth modules both on, the standby power consumption is 0.6W, an astonishing world record low.
With a maximum power consumption of 36W at the highest speed, when Sauberair FLAT is working 24/7/365, it only adds an average of $8/year to your electricity bill. The maximum noise level is just 60dB - as of a normal conversation - when operating at its peak capability.

Sauberair FLAT is equipped with a high-sensitivity laser sensor to detect suspended aerosols and the newest sensor from Germany to monitor environmental parameters.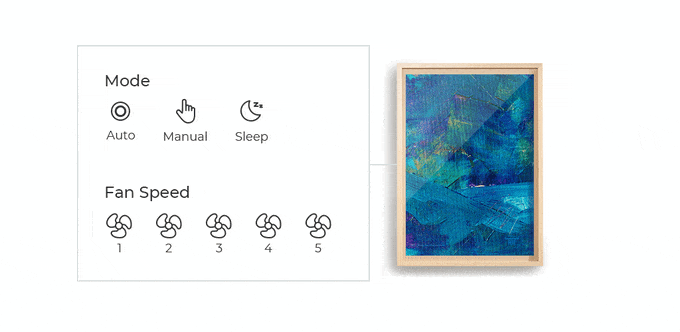 It offers five-speed settings in manual, auto, and sleep modes. In auto and sleep modes, FLAT automatically and intelligently adjusts its fan speed based on the air quality it senses. So you just sit back and enjoy healthier, fresher air.
The lights-dimmed, noise-reduced sleep mode operates as low as 28dB, so you won't hear anything. It allows you to set the top fan speed to be quiet enough for a great night's rest.
It comes with an easy-to-operate App that provides you with full control of the Sauberair FLAT. It brings you a clear view of the air quality in real-time via indices like PM1.0, PM2.5, IAQ, equivalent CO2, humidity, temperature, atmospheric pressure, etc. The LED light on top of Sauberair Flat pointing to the wall changes colors to indicate the current air quality in the room.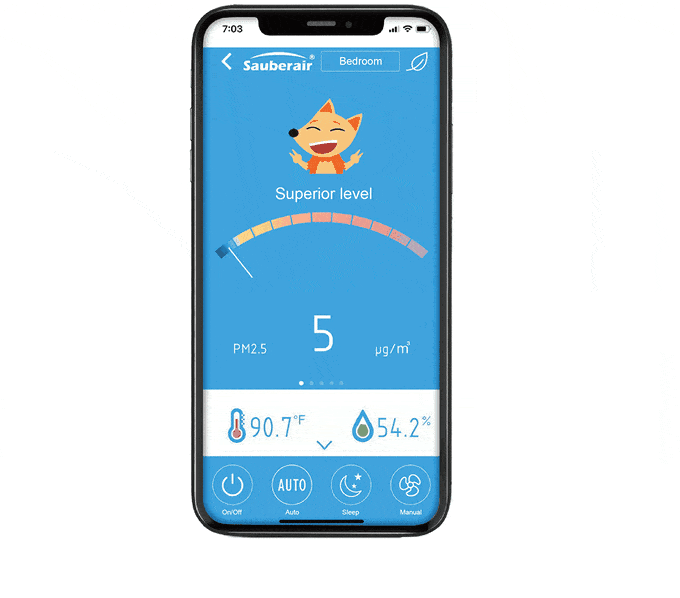 *Please note that you can use FLAT's off-site-remote-control-APP-feature only in an environment where FLAT is placed with WiFi signal.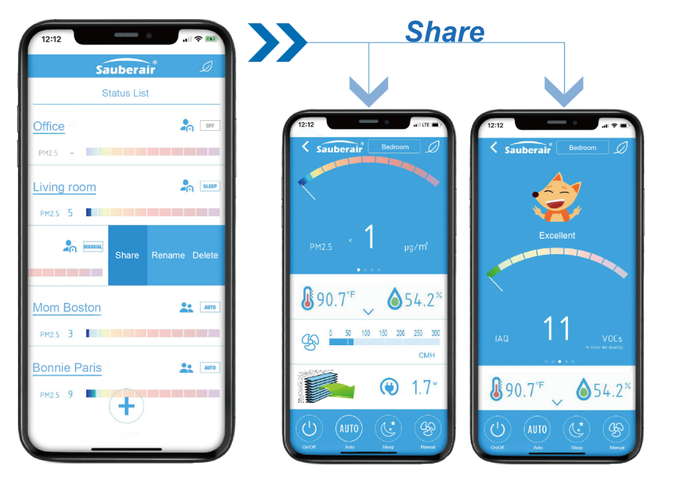 The App also enables you to share control of the Sauberair FLAT with family members, and everyone can remotely control it. This unique function allows everyone to check the operation status, air quality at the houses, and schedule standby and sleep time for their devices seamlessly with their smartphones from anywhere, anytime.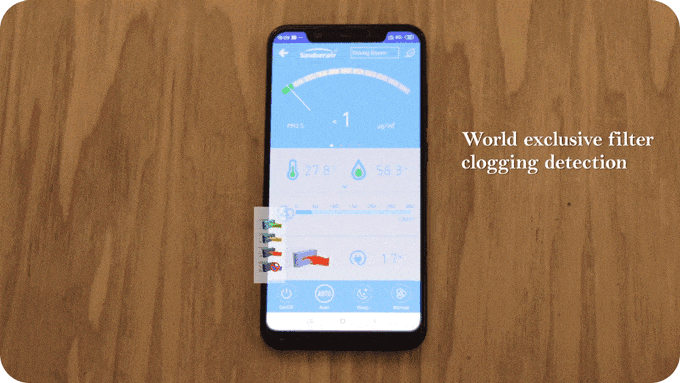 Sauberair FLAT deploys a unique world-leading technique to identify the real-time airflow passing through the filter. It will alert you to replace the filter when the airflow drops below the norm, which means that the air filter becomes saturated and no longer to provide sufficient filtration capacity.
This stands in stark contrast to almost all other air purifiers on the market who simply determine the filter changing time using a countdown clock from its rated operation hours regardless of the actual clogging status of the filter. Only Sauberair FLAT can guarantees that it works in optimal conditions to the fullest extent, saving you money and protecting the well-being of your loved ones.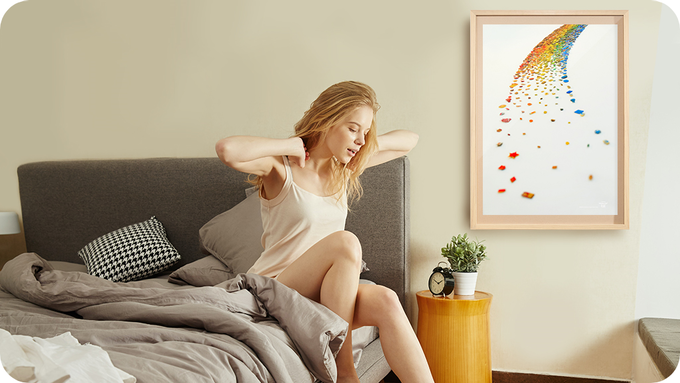 Sauberair FLAT takes the modern air purifier to the next level by spreading graceful music as well as refreshing air from up on the wall.
Each Sauberair FLAT-BT model has built-in stereo Bluetooth speakers that are ready to pair and play music or sound you the wake-up alarm.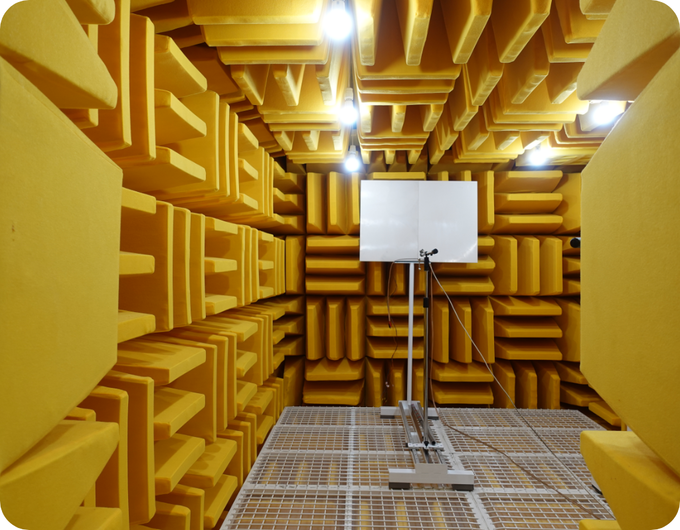 We have improved its sound quality by modifying the mold, adjusting parameters and testing in the acoustic anechoic chamber repeatedly to pursue the premium audio performance for you.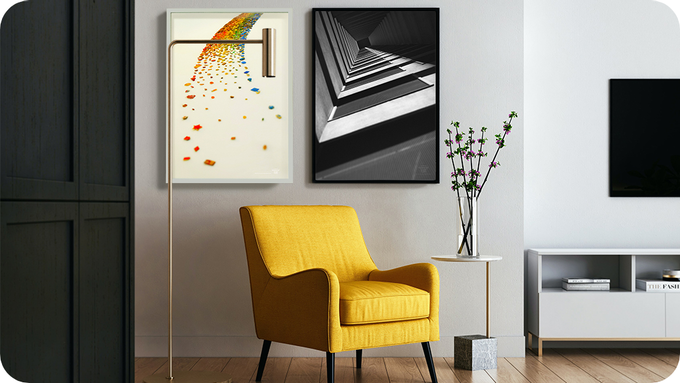 Other than being used individually like a standard air purifier, Sauberair FLAT can be used multiple sets jointly together by wiring. You can magnify the filtration effectiveness to fit a larger room and control all the individual machines synchronically with just one click on the button.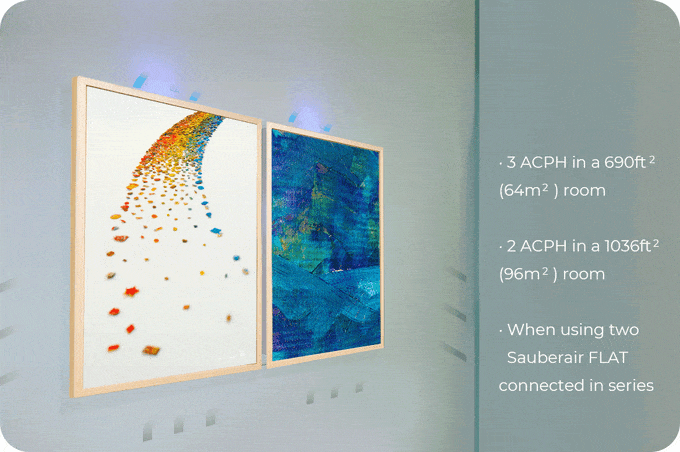 Two Sauberair FLAT can be connected in series and used simultaneously to double the filtration coverage and ability in capturing the harmful airborne particles. It expands the functions in monitoring real-time air quality and reacting automatically to adjust cleaning levels. At the same time, the speakers built in the separate FLATs can co-work together playing stereo music from your smartphone wirelessly.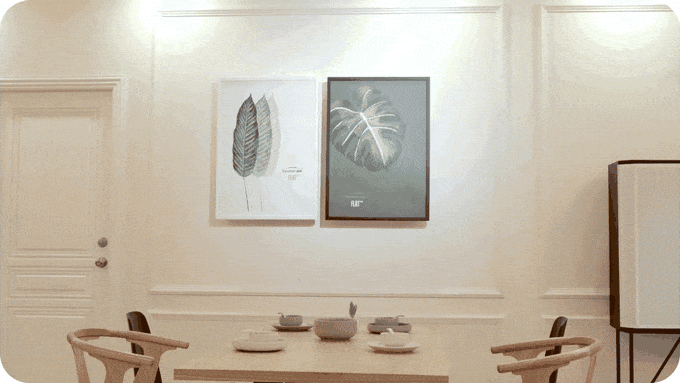 What's more, when used as Bluetooth speakers to play music while filtering, one Sauberair FLAT can act as a left channel and the other as the right channel, and together they deliver the best stereo sound quality with good soundstage and detail.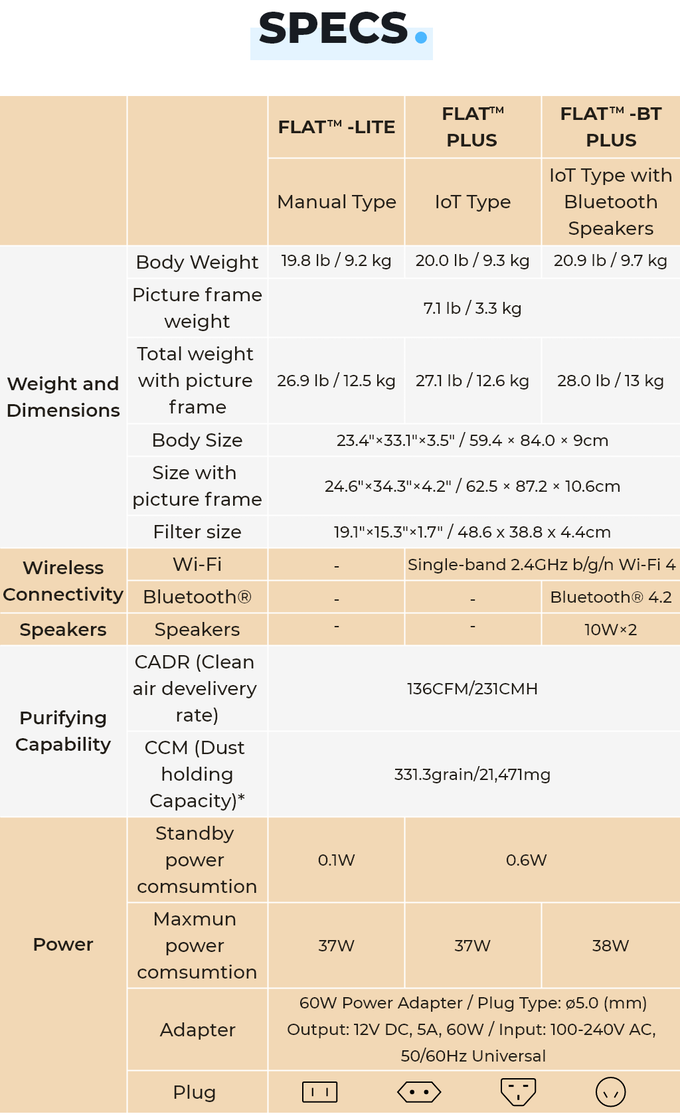 * CCM represents long-term performance. It indicates the mass of the accumulated dust by the filter when the CADR drops to 50% of a new filter. The higher the CCM, the longer the filter lifespan, and the longer the filtration effectiveness endurance.
Note:
1. FLAT M&S = FLAT Plus + FLAT lite ;FLAT M&S(BT) = FLAT-BT Plus + FLAT lite
2. FLAT M&S(BT) has to be used together, for the left speaker is at the left side of FLAT-Lite(Slave), and the right speaker is at the right side of the FLAT-BT Plus (Master). Only by wiring together, the left speaker can play synchronous stereo sound with the right speaker.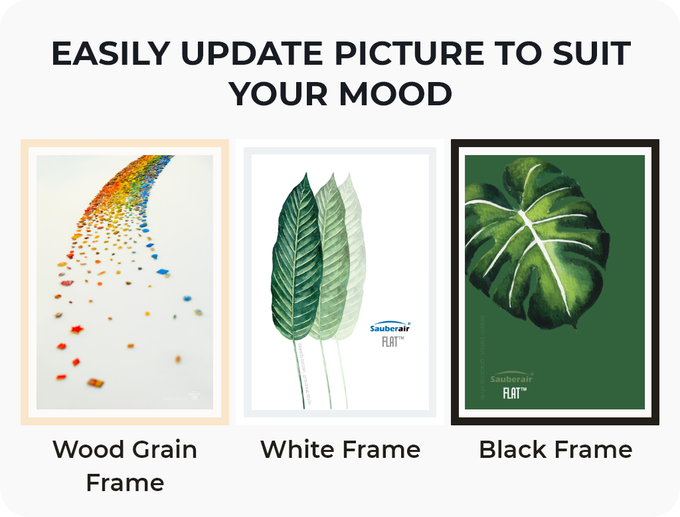 Sauberair FLAT comes in three color options for the picture frame: black, white and wood grain, with a default painting as shown above. The painting can be switched out to any art piece measured 594mm×841mm in. You will be able to choose the color of the frame in our survey sent to you after the campaign is over.
*We provide a wide selection of copyrighted digital paintings. You can download the one you like and have it printed out for application.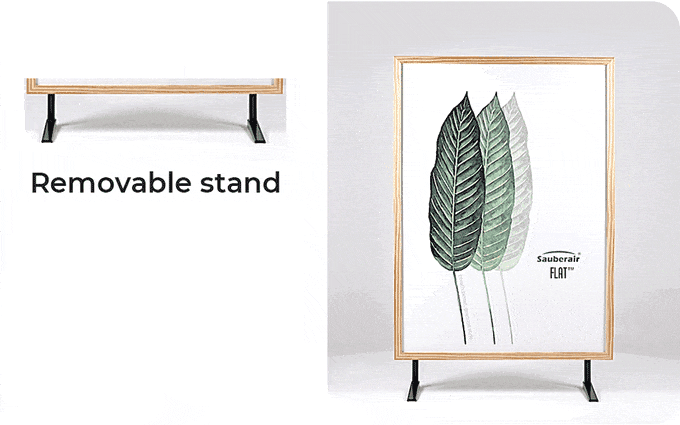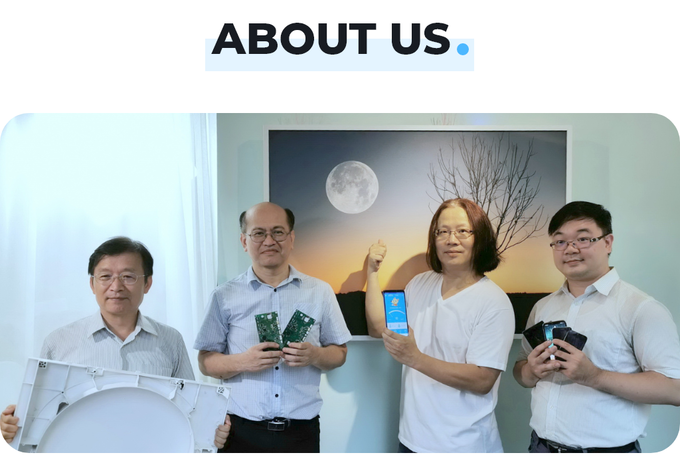 We are several retired people who used to work in the machinery and electronics industry. We always wonder to ourselves: why filters of the air purifiers are so expensive; why there is not any air purifier that can tell the real filter clogging status; why an air purifier has to be placed on the ground and looks just like a home appliance.
So we decided to make an air purifier of our own that solves all the problems mentioned above.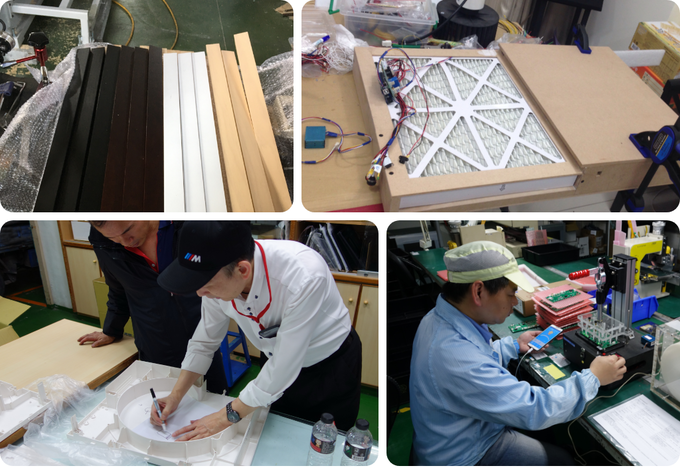 First, we want to make an air purifier of which the filter is inexpensive, lasts longer yet effective. Second, we want it to be a money-saver, and also, a space-saver that defies the traditional look of an air purifier.
To achieve the first goal, we ordered filters of over 10 different kinds and referred to research papers, repeatedly tested them for months to pursue the best result. Eventually, we developed the best filter with a great balance of filtration efficiency, airflow, and dust-holding-capacity. For the second goal, we spent nearly 3 years developing the entity, structure, picture frame, circuit board, APP, and firmware. Despite all the difficulties, we finally did it.
The amazing features of FLAT, such as its excellent filtration effectiveness, distinctive appearance, integrated picture frame and Bluetooth speakers, advanced multi-function, and the thinnest thickness in its category, have won FLAT the highest score of the MIT (Made in Taiwan) Golden Select Award 2020. It was also selected as one of the 2020's best air purifiers by the Taiwanese well-known air purifier blogger "Appliance Insight". These are the biggest encouragement to our team.

We have professional acceptances, and we now need your support so that this wonderful product can be mass produced to protect your health and make your life more convenient.